English version
Real enhancement experience part 1

I've been doing Real MARIO KART on a public road in Tokyo!
(Odaiba Course) * With on-board camera video
Recently, I was worried because there are many foreigners dressed as Mario in Odaiba and driving carts. That's why I haven't come here. Real Mario Kart!
Nintendo filed a lawsuit for copyright infringement at the end of February.
Nintendo runs out of patience with Mario Kart on public road. Finally sues one company for damages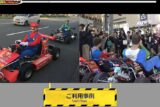 任天堂、公道「マリオカート」に堪忍袋切れ ついに1社を損害賠償で訴え
任天堂は2017年2月24日、「マリオ」や「ルイージ」などの人気キャラクターの衣装を貸し出し、「公道カートレンタル」事業などを行う株式会社マリカー(東京都品川区)に対し、著作権侵害などに当たるとして損害賠償を求める訴えを東京地裁に起こした。「公道カート」は、東京都内を中心に全国で複数の企業がサービスを行っており、「リア...
It's not strange to be out of business at any time, so if you want a Real Mario Kart, hurry now! !
That's why it goes back last November.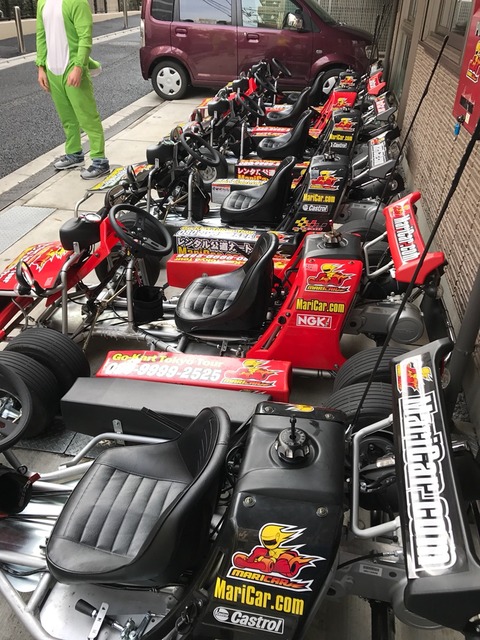 We are gathering at a store at Keikyu Kita Shinagawa Station. There are many carts, but there are actually many carts in other parking lots.
There are 3 courses.
Course A (Tokyo Shibuya course)
2 hours from Shinagawa → Tokyo Tower → Roppongi → Shibuya → Shinagawa
Course B (Tokyo Odaiba Course)
2 hours from Shinagawa → Odaiba → Tokyo Tower → Roppongi → Shinagawa
Course C (Tokyo Shibuya / Odaiba All course)
3 hours from Shinagawa → Odaiba → Tokyo Tower → Roppongi → Shibuya → Shinagawa
This time I will go to the course B Odaiba course. The price is 6000 yen, but if you review on Facebook, it will be 5500 yen, so of course it is a review fee.



There are 4 real MARIO KART race participants. By the way, costumes can be rented for free. There are various costumes other than Mario characters, but this time we all choose MARIO!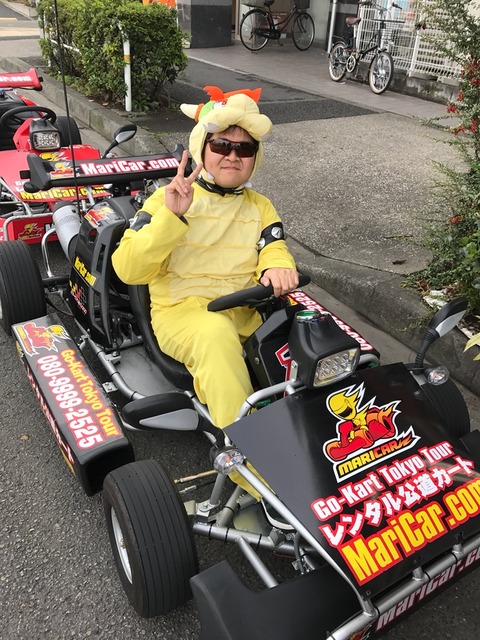 First of all, Real KUPPA. Not Korean food.。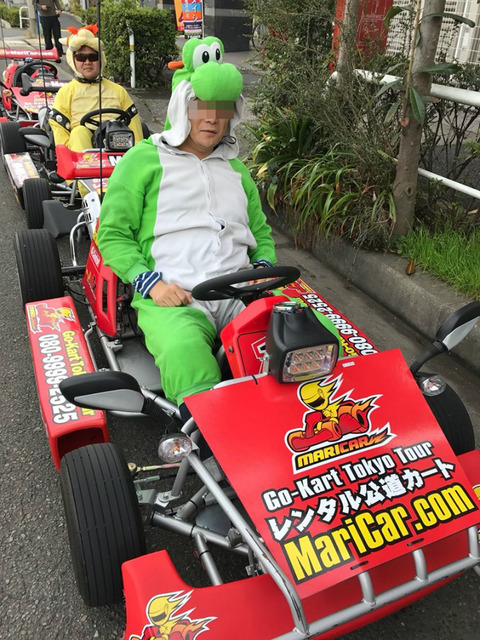 And real YOSHI. Not Yoshikizo.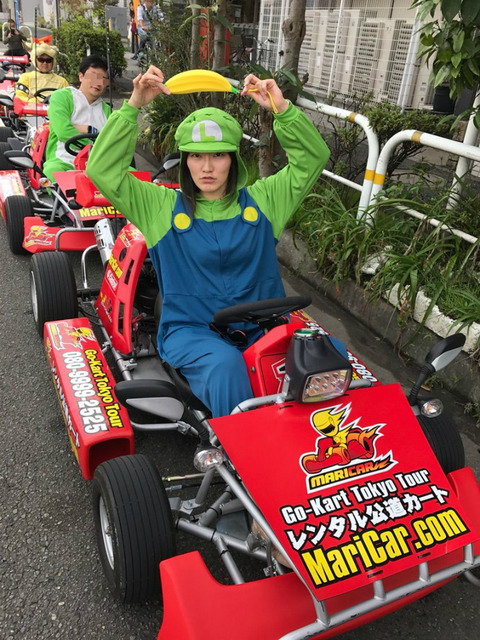 A real LUIGI is lady. Dare not Princess PEACH.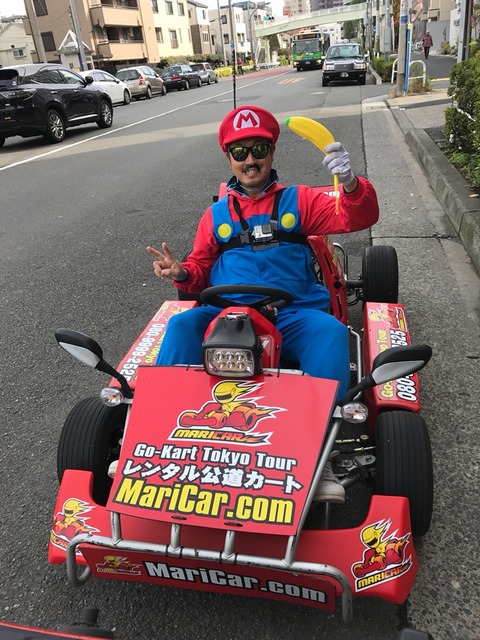 Real MARIO! "Sunglasses with mustache" and "banana pencil case" bought at the Flying Tiger at the Nordic General Store are very popular here! In other words, it's too bad and it's WARIO, this.
Depart from the parking lot along Daiichi Keihin, a few minutes walk from the store!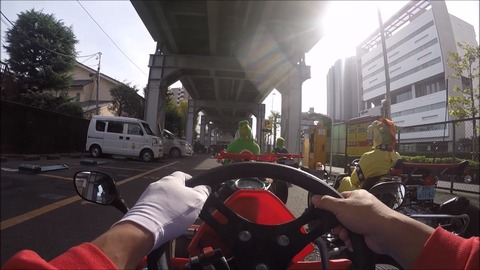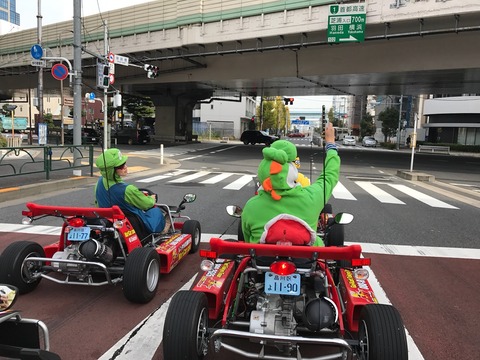 From Kita Shinagawa, cross the Rainbow Bridge to Odaiba! Yoshi and Luigi were nervous because they had little experience in Tokyo.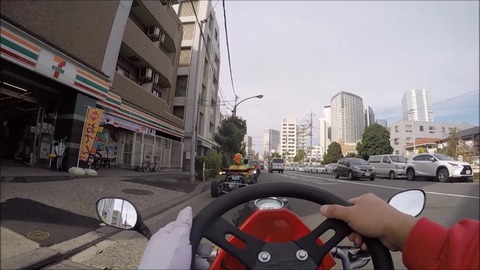 Stop at the convenience store near Kita Shinagawa.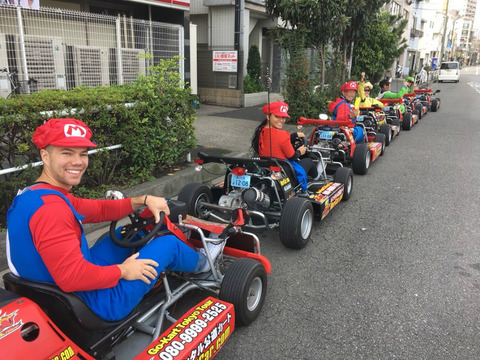 Join a foreign couple who is MARIO at a convenience store here! MARIO grows to 3! It feels like two 1UP mushrooms.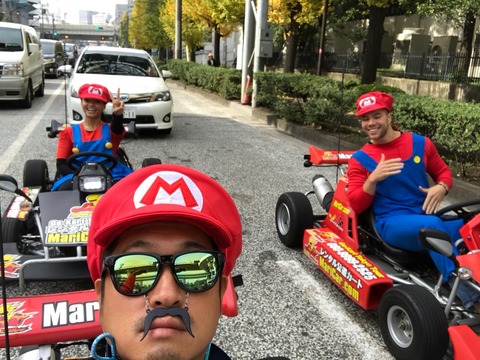 Posing as soon as the camera is pointed. Foreigners are good!



By that, start exploding to Odaiba!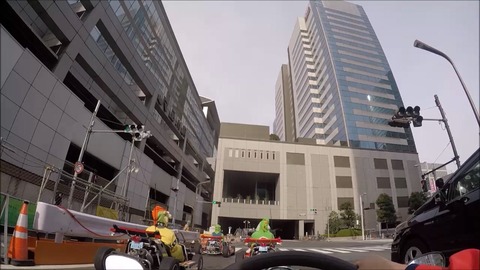 Blast in front of Shinagawa Station Konan Exit! 50 km / h!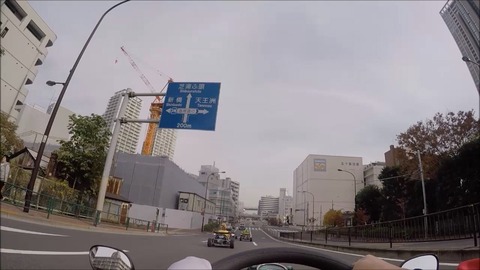 Pass through Shibaura Pier! Rainbow Bridge soon!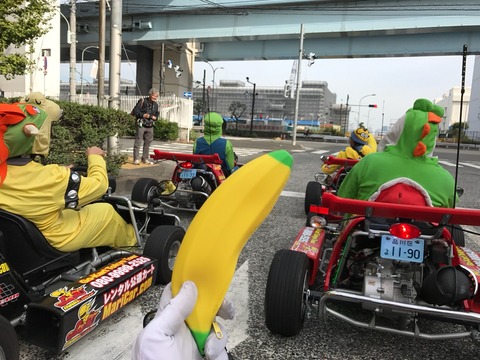 MARIO aims at the enemy in front with a banana. This banana (pen case) is quite suitable for MARIO KART.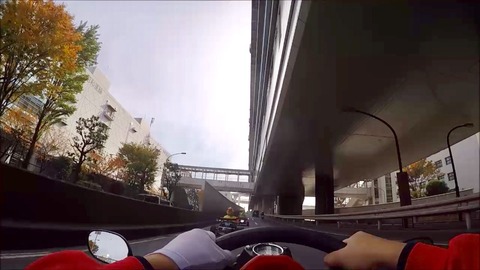 Now, the Rainbow Bridge! Non-stop blast from here because there is no signal!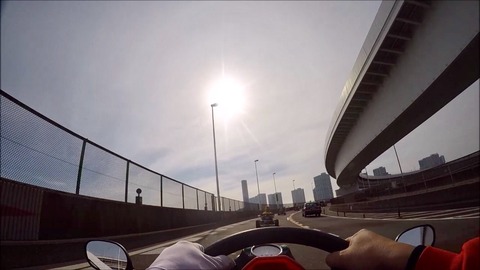 Loop before riding the Rainbow Bridge. It feels good ~~~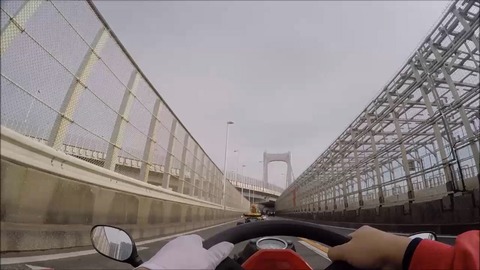 I can see the bridge! 55 km / h!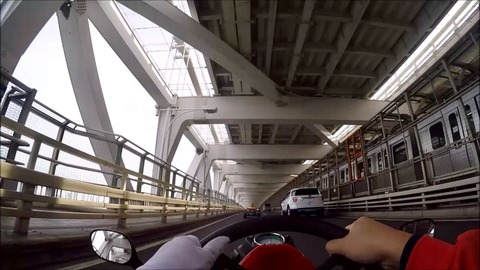 Enter the Rainbow Bridge! 60 km / h!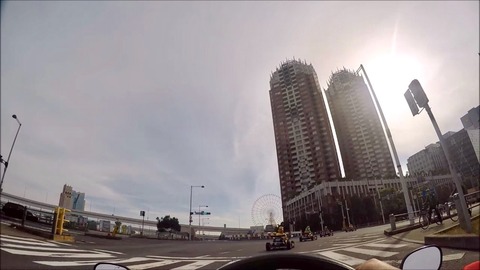 Go down the bridge and land in Odaiba! I could see the Ferris wheel!
Click here for a video of the Rainbow Bridge onboard camera
(It looks like an F1 onboard camera !!)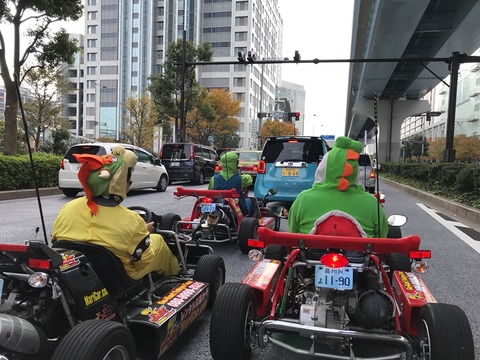 Pass in front of Fuji TV in Odaiba!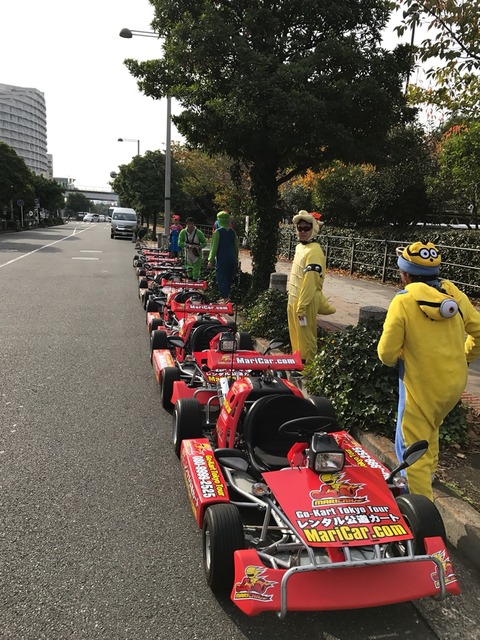 Arrived at Odaiba Seaside Park. Take a break here.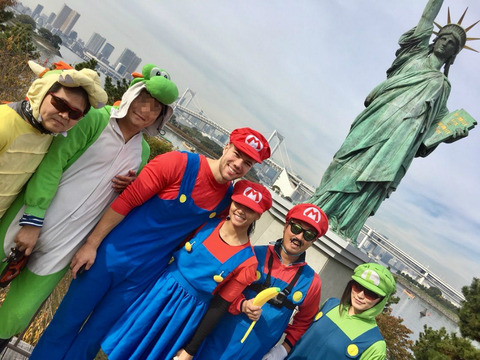 Commemorative photo in front of the Statue of Liberty. Many people ask me to take pictures. I wonder if it was an event.



Start with a break of about 15 minutes.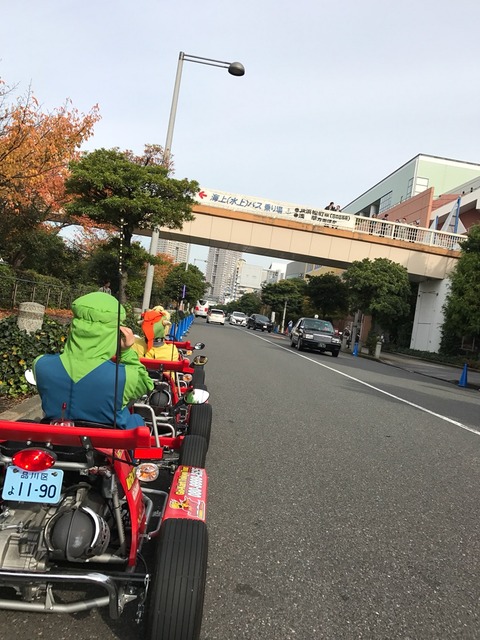 Next to Tokyo Tower from the road in front of Aqua City in Odaiba Seaside Park!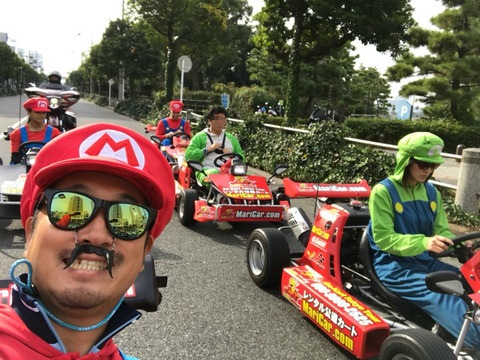 Departure! I feel like Mario's mustaches are awkward!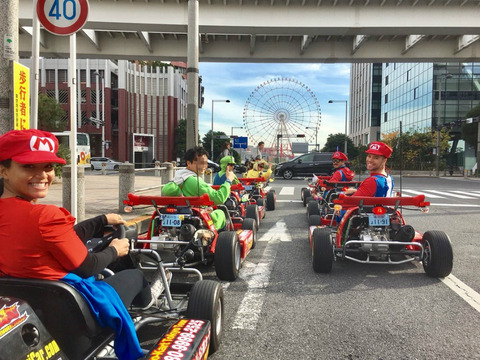 Taken at the intersection where you can see the Ferris wheel in Odaiba.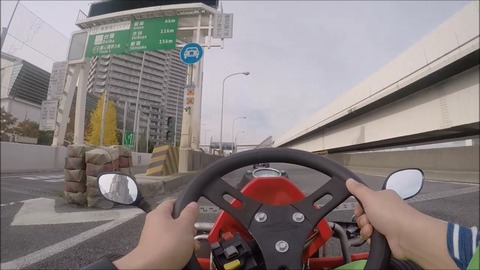 Go back to Rainbow Bridge!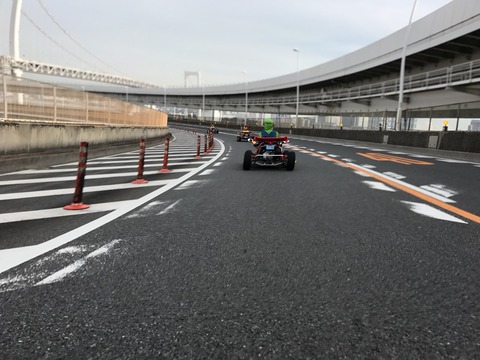 Although the speed is about 60 km / h, the vehicle speed is low, so the experience speed is quite high.
Click here for a video of the onboard camera of the Rainbow Bridge Explosion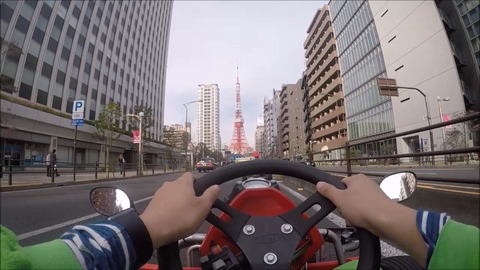 Go down the Rainbow Bridge to Tokyo Tower! Excited to see the tower from the front!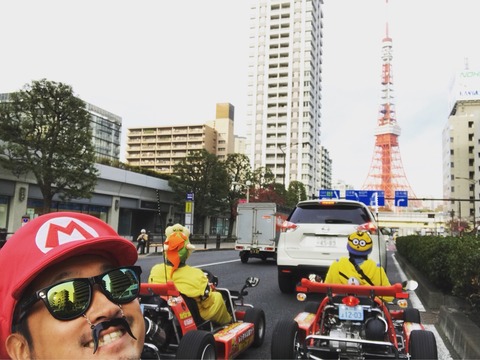 But be careful driving aside because there are so many cars! (Self-taking while driving is dangerous)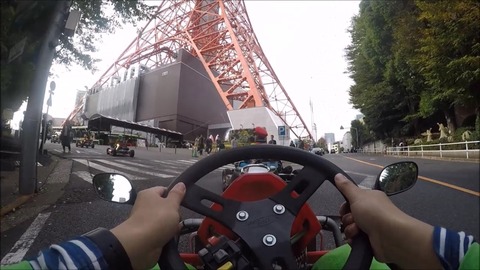 Arrived at the base of Tokyo Tower!
Click here for a video of the on-board camera approaching Tokyo Tower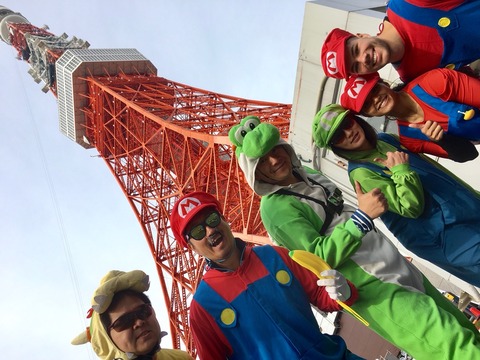 The last break here. Another commemorative photo.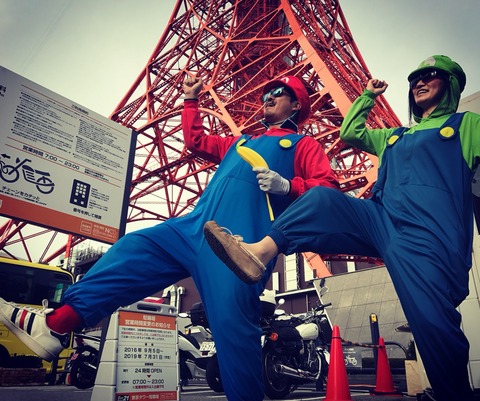 MARIO & LUIGI brothers who misunderstand Tokyo Tower as a bean tree.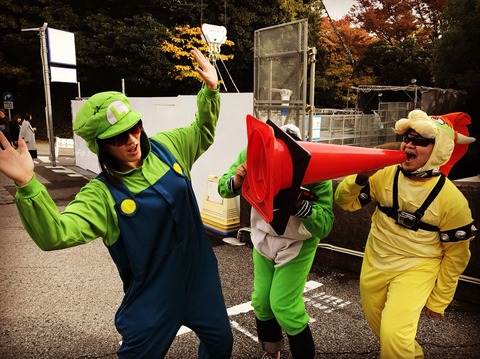 LUIGI who is likely to be attacked by KUPPA's flame.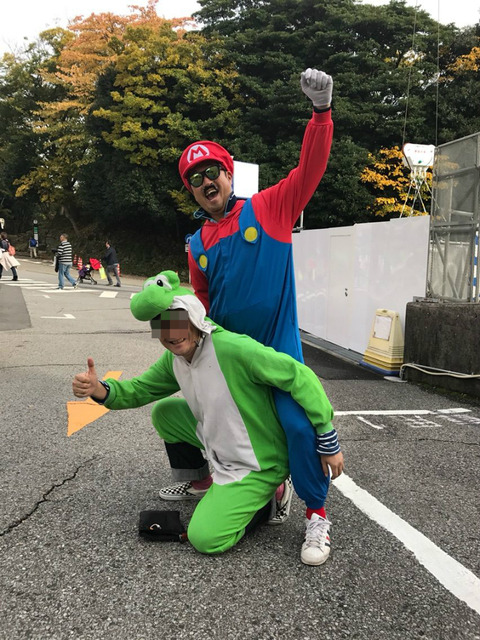 MARIO rides on YOSHI. It looks like animal cruelty. Because Yoshi is a dinosaur, is it dinosaur abuse?



After the excitement of shooting, leave Tokyo Tower!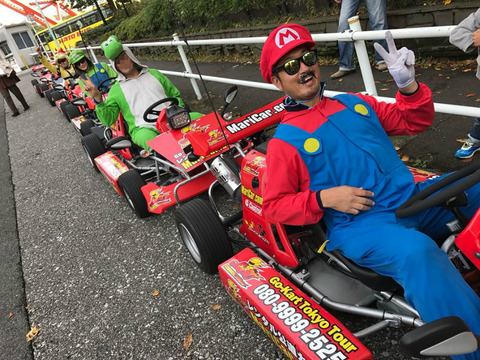 Go back to Kita Shinagawa through Roppongi. It is also taken by various people at this time.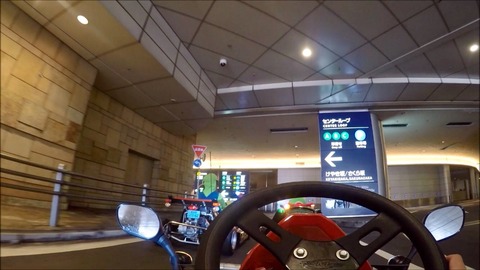 Tunnel under Roppongi Hills!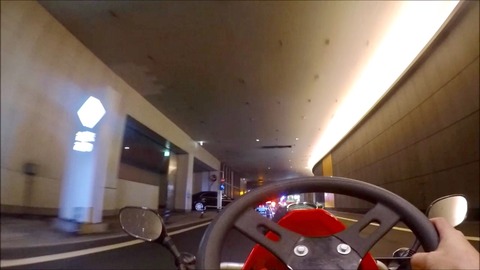 Uooo! I feel like Monaco GP! Suddenly, if you run the Monte Carlo of Monaco GP with this cart, I think it would be hot.
It 's like the Monaco GP! Click here for Roppongi Hills tunnel onboard camera video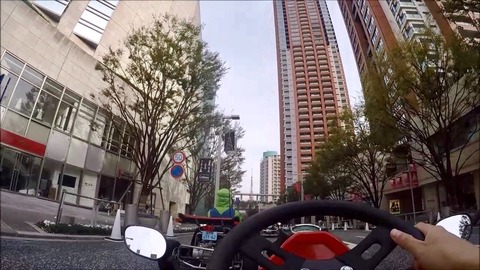 Run through a Hills condominium.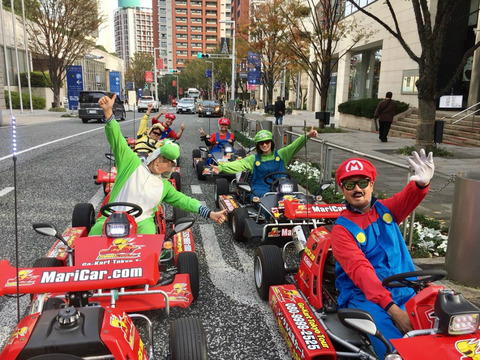 By the way, the staff will take a picture at the intersection like this.
Passed in front of rear-filled pronoun brand Louis Vuitton.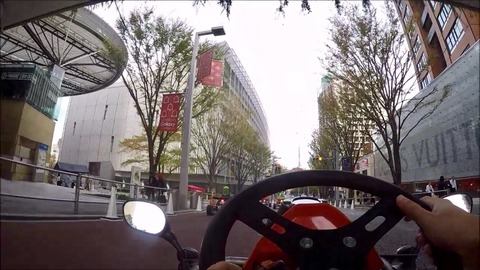 At this point, I am confident that this is more realistic than Vuitton shoppers (but I want a bag ~).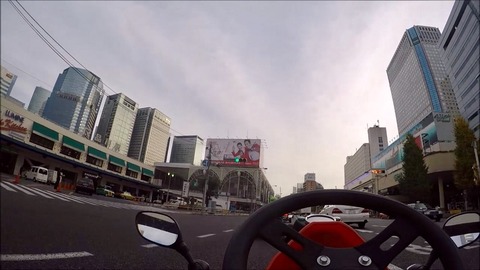 Run through Daiichi Keihin! Pass through Shinagawa Station! Is it okay to travel on such a highway with just a cart?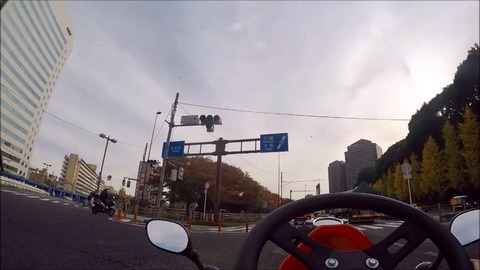 Yatsuyama Bridge intersection. The goal is coming soon.
Feeling like Hakone Ekiden! ? Run in front of Daiichi Keihin Shinagawa Station! Click here for onboard camera video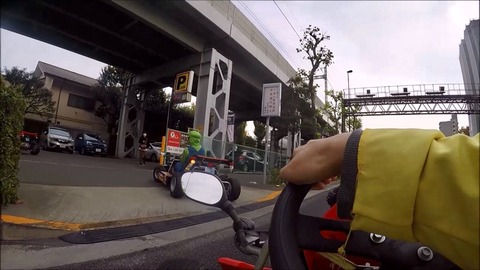 Return safely to the starting parking lot in Kita Shinagawa!
It was really a real and fulfilling 2 hours.
It's no surprise that Nintendo has been sued and it's not going to be out of business, so hurry up now!
(According to rumors, Mario-style costumes can no longer be rented. Customers can bring them in on their own.)
Click here for the Japanese version!
マリカ―(Maricar)

* Japanese site is no longer available